Q: What are the advantages of the Epilfree system compared with Laser or Electrolysis?
A: The Epilfree System is suitable for all hair types & colors; including red, blonde, grey and downy hair. There is
no risk of skin damage that some people are prone to as a result of optical depilation procedures and there is
no limitation on exposure to the sun after treatment. Treatments may be offered at a competitive price
compared to more expensive laser & electrolysis, which allow it to be more accessible to more people. It works
where and when laser won't and can complement laser and electrolysis services. It completes, not competes
with them.
Q: Who can receive the treatments?
A: The treatment is intended for women and men of all ages. It can be used on any treatment area.
Q: Are there any limitations?
A: Epilfree should not be used on skin that is irritated or damaged. Do not treat any open wounds or mucous
areas (i.e. inner nose, lower lips and the rectum). In general, the "rule of thumb" is that if a person is unable to
receive wax treatments, they are unable to receive Epilfree.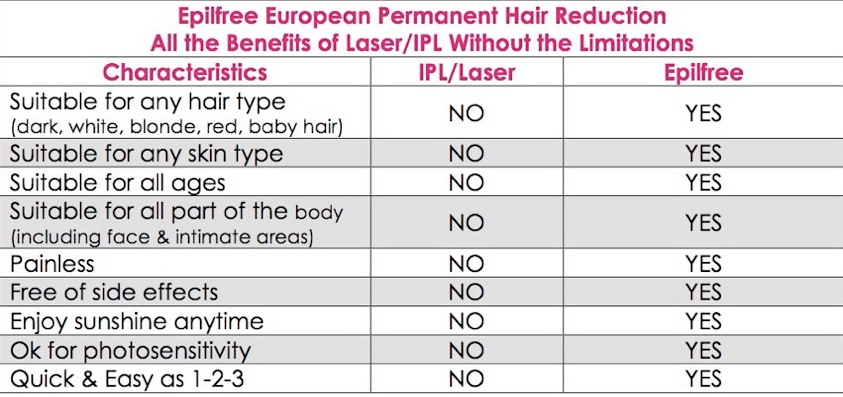 Q: How many treatments do I need?
A: A series of 8-12 treatments is typically needed to effectively reduce the hair in most areas. The need for a
series of treatments is due to the way that hair grows in stages, with only about 10-15% of the hair on your body
at any one time in the growth stage where Epilfree is effective. The exact number of treatments needed varies
among individuals and body parts.
Q: How soon will I see results?
A: Typically results become visibly obvious after 2-3 treatments with a full course of 8-12 treatments required to
stop most of the hair growth. The speed of visible results varies among individuals and body parts, but in
general, about 10-15% of hair reduction is seen per treatment. A slowing of hair growth and a lightening of the
regrowth hair are additional side benefits experienced by many people.
Q: How long will the results last? Will the hair grow back?
A: As with laser, the hair cannot be expected to grow back unless there are major changes in hormonal
elevations or illness may cause more hair to grow. It is imperative you discuss with your client their wishes for
long-term hair removal in each area you are treating and they understand the permanent nature of the
service.